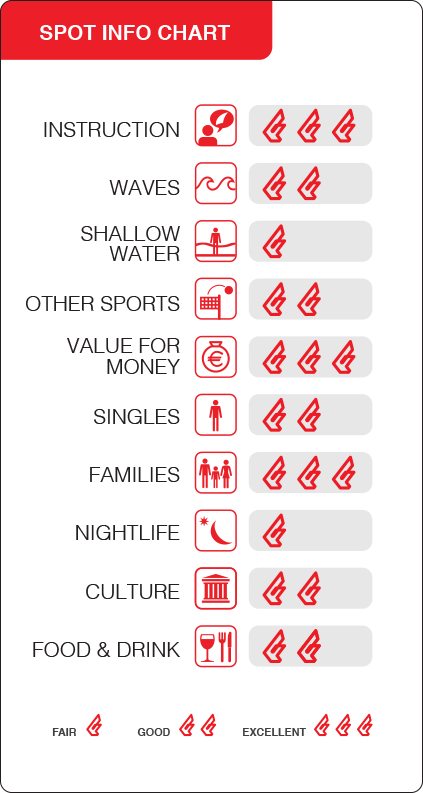 The FBC Dahab Center is located in the lagoon of Dahab Bay. The center is one of the most comfortable and most beautiful in our portfolio. Made completely out of wood, it offers lots of space to relax whilst having a great view over the spot. The center is famous for its first class service and the super friendly and enthusiastic team members.
OPENING TIMES – All year, daily 9.00 am - 5.00 pm.
LANGUAGES SPOKEN – English, Arabic, Russian, French.
QUANTITY KIT – Approx. 45 windsurfing boards - 60 rigs  (sizes: 0,6 m² - 9,5 m²) +  6 SUP boards
KIDS/JUNIOR EQUIPMENT – Yes.
WETSUIT/HARNESS – Yes. Neoprene wetsuits 3 or 4mm are recommended from the end of November until March. A shorty is good from March until end of May and from mid-October on again. From June until October, boardshorts and lycras are more than enough !

SPECIALS – Video clinics, two BIG chill-out areas, free Wifi, table soccer, open air gym, yoga, hot showers. The place  has it all and does it in style!
TUITION – Complete tuition program
SAFETY – Rescue boat, walkie talkies (and Rest&Rescue Island on the Speedy).
PAYMENT POSSIBILITIES – Euro, local currency, credit cards: Visa & Mastercard
EXTRAS - GoPro rental.
ACTIVITIES – Sailing in the waves, video clinic, Bedouin dinner in the mountains, welcome cocktail
TIPS – Surf shoes recommended. Wetsuit, harness, helmet, lifejacket, surf shoes availability is limited, therefore we recommend to bring your own.
OTHER SPORTS AT CENTER: Organisation of SUP downwind excursions . Bikes to rent at the center. Yoga.
OTHER SPORTS AROUND: Diving, Snorkeling, Mountain Biking.