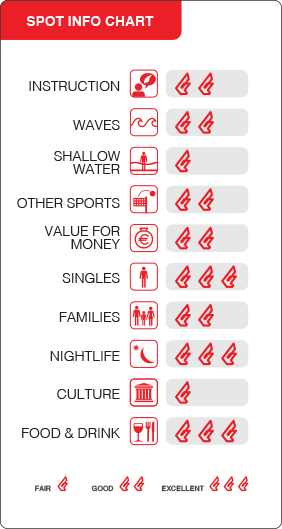 The center is open all year round and stocked with the latest Fanatic, North Sails and North Kiteboarding kit. Ben Thomas has had the place since 1988 and knows the best spots and places to go and when! FBC Fuerte is the only center on the island where you can take your kit with you and visit some of the fantastic wave spots around - Cotillo/Glass Beach/Punta Blanca – each one working in its' own special way depending upon local conditions. You can make your own way there or join one of the jeep safaris arranged by the center. FBC Fuerte also arranges multi-sports packages to include windsurfing, kitesurfing and surfing where you will have a chance to experience the incredible surfing to be found on the north track.
OPENING TIMES - All Year. Summer 10.00 – 19.00. Winter 10.00 – 17.00. The center will extend opening times in the event of the wind kicking in later.
LANGUAGES SPOKEN - English, French, German, Spanish, Italian, Polish (summer).
QUANTITY KIT - Approx 45 Boards & 70 Rigs – FANATIC & NORTH.
SAIL SIZES - School Sails 1.5m sq. – 3.5m sq. North Sails 4.2m sq. – 6.4m sq.
KIDS/JUNIOR EQUIPMENT - Yes.
WETSUIT/HARNESS - Wetsuit and shoes included in price. Harness can be rented for €5 per day.
SPECIALS - All Sport Package (windsurf, kitesurf and surf). All Inclusive Multi-Activity Package. 4 days out of 7 and 9 out of 14 windsurf package. 3 day Beginner Kite Courses.
TUITION - Unlimited and at all levels. VDWS. IKO.
SAFETY - Baywatch with communication by walkie-talkie, rescue boat,
PAYMENT POSSIBILITIES - Credit Cards (Visa and Mastercard) Cash.
EXTRAS - Beach Bar.
ACTIVITIES - Volleyball and Boogie Boards.
TIPS - Hire a car and check out the many spots on the island.
OTHER SPORTS AROUND THE CENTER - Volley Ball, Body Boards, Sea Kayaks and snorkeling
OTHER SPORTS AROUND AND ABOUT - Sailing, Golf, Tennis, Waterski, Jet-ski, Jeep Safari, Wakeboarding, Diving, Moutain Biking, Go-Karts, Trekking, Horseriding, Catamaran Sailing, Fishing, Water Parks, Bowling.