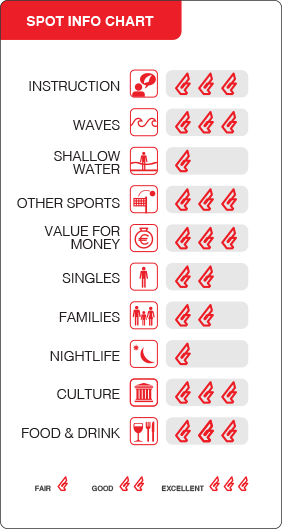 FBC Moulay is the haven where you will find a truly exclusive center, as well as a great café (Café Resto) and own accommodation (with half board at the center's restaurant and guaranteed fresh tasty organic dishes every day), the whole located on the cliffs and with direct views to the beautiful scenery and action. Welcome to a new dimension of Morocco and to the cream of windsurfing, SUP and surfing so close to Europe !
• OPENING TIMES – 1st March – 31st October.
• LANGUAGES SPOKEN – English, French, Spanish, and Arabic.
• QUANTITY KIT – Approx 30 Boards & 50 Rigs – FANATIC & NORTH SAILS TOP KIT! + 10 Fanatic SUP & 5 longboards
• SAIL SIZES – NORTH SAILS 3.4 sq m – 5.9 sq m
• KIDS/JUNIOR EQUIPMENT – No.
• WETSUIT/HARNESS – Wetsuit and harness included in price. Bring own shoes if preferred.
• SPECIALS – Wind Pass – if courses or rental cannot be completed owing to conditions other non-wind based activities will be proposed such as. SUP and surfing.
• TUITION – Gold Lessons (windsurf) – private lessons with top instructor and video coaching. SUP & Surf lessons also offered.
• SAFETY – No rescue cover in Moulay.
• PAYMENT POSSIBILITIES – Center only accepts cash (local or foreign currencies) and bank transfer
• ACTIVITIES – SUP, Surfing, Sea Kayak, Body Boards, Horseriding, Camel Trekking.
• TIPS – Visit a Hammam after a hard days windsurfing! Shoes recommended in Moulay.
• OTHER SPORTS AT CENTER: SUP / Surfing / Bodyboards
• OTHER SPORTS NEARBY (Essaouira!): Kitesurfing / Golf / Tennis / Quad Bikes / Diving / Moutain Biking / Trekking / Hot Air Balloon / Fishing / Horse Riding / Excursions on Camel.