Here is why: Forget the rumors you may have heard about the "Russians", because there is in fact a very healthy fun mix of Germans, Egyptians, French, Israelis, English, Italians and more.  Lucky for us, the FBC Dahab center is the only center in the bay owned and run by Egyptians. If that makes you nervous, don't be: These guys have actually been the heart of this center since it was built back in 1998, when it at the time was called Club Mistral and then ION Club. Yes, Said and Ahmed, the famous Farouk brothers, have been there from the start and now run the show for our utmost pleasure. The name might have changed, but the magic, the comfort and the quality remains, as well as a human contact that is simply too rarely found nowadays. They know all about customer service and nothing – really nothing – is ever a problem.  They and their team will take care of your every wish and need with a golden heart and their permanent smiles, good mood and positive energy. This center is your center and everything is done to give you the best time ever, on land and on the water.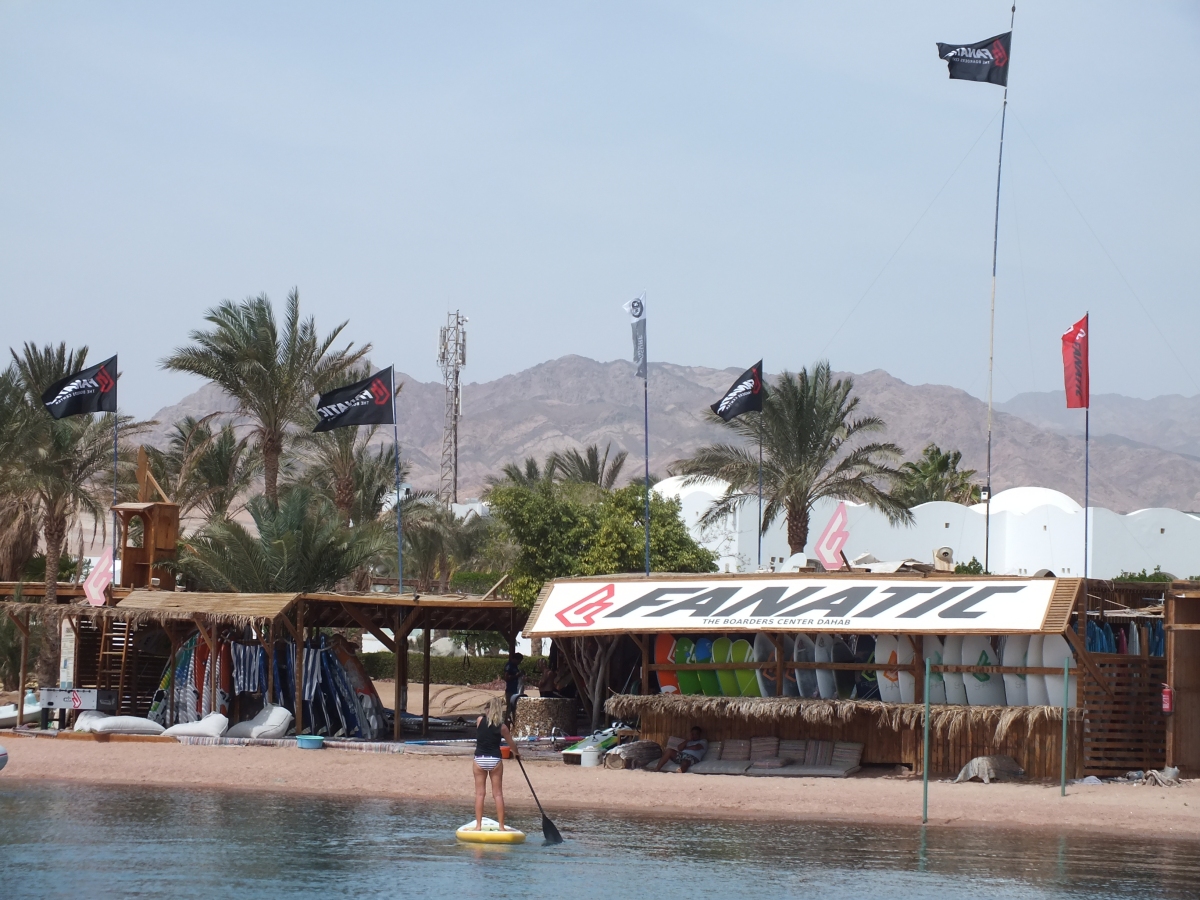 What about time on the water you ask ? You will get plenty of it ! Dahab delivers wind all year round and offers 3 main sailing areas to cover all needs and care for all levels. Firstly the Laguna, just off the center, is a super safe place despite the wind blowing offshore. It does not offer the most constant wind and you will learn how to read gusts coming on the water, but it is a great arena to see you progress with your windsurfing skills.  Behind the Laguna is a large waist high deep area exclusively reserved for kitesurfing, lessons and private practice – sandy and enclosed, it is ideal and perfectly safe. Behind the Laguna and its sand strip, you will find the Speedy with super glassy flat water and constant linear wind. There is a Rest&Rescue island for you to take a breather and enjoy the action and the beautiful scenery all around you. You simply cannot imagine the feelings you will have riding up and down this beautiful strip of crystal clear water that will make you feel like you are in Mauritius or in some lost pacific atoll - it will take your breath away. At the end of the Speedy and slightly upwind, you will find the infamous Baby Bay, a paradise-like pool of turquoise water where you can practice (or watch) the moves of your dreams.  You then finally reach the Napoleon Reef  – a must for snorkeling -  that delimits the Waves area. Do not expect dangerous breaking waves but some fun rolling swells that allow some backside riding and fun jumping. The center always suggests that guests go in small groups into the waves, and you will be offered a radio should you need some assistance, but there as well as anywhere else in Dahab, the team is present and looking after you, offering a motor boat taxi service from and to wherever you want, whenever you want it. So forget offshore winds, it means nothing !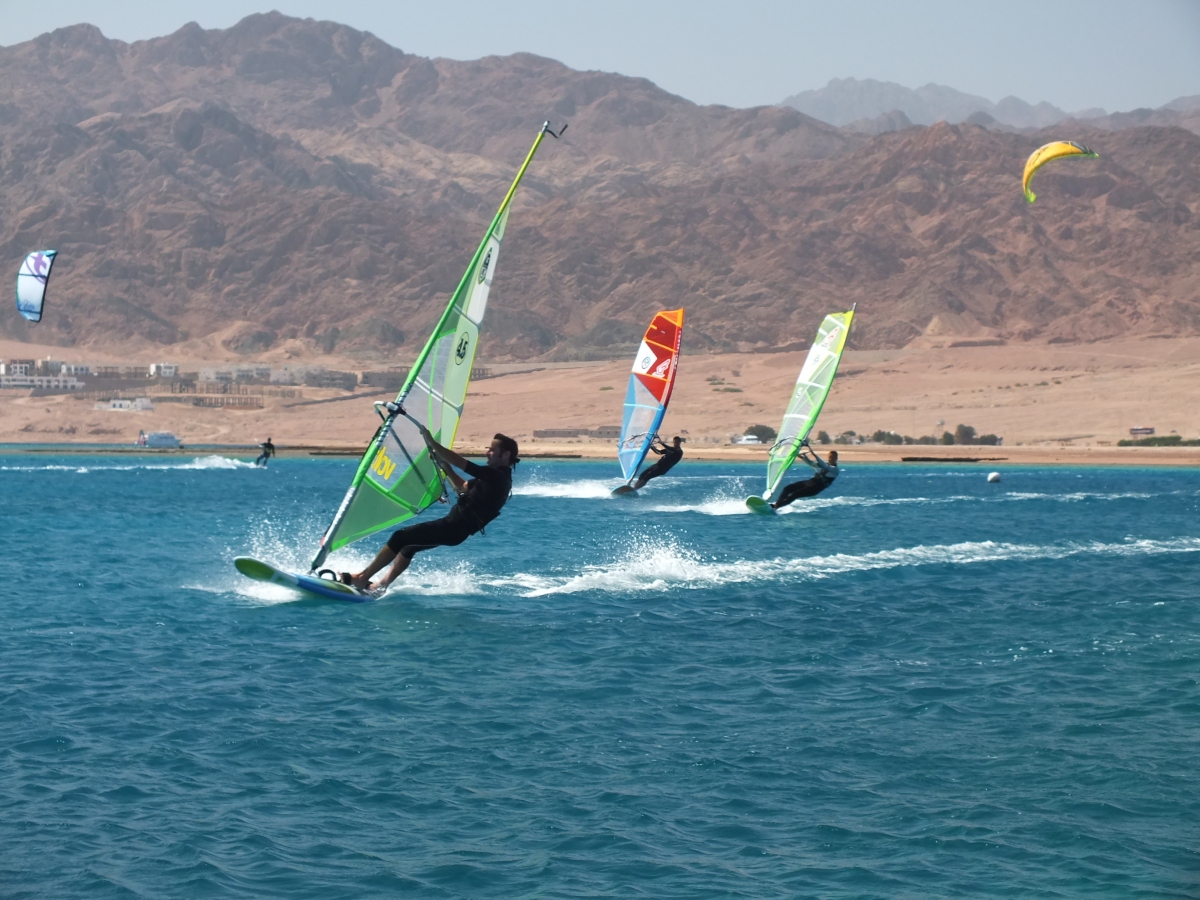 Should the wind stop blowing for a while, be prepared to enter another type of paradise.  Many spots around the world can become quickly boring if the wind stops, but that is surely not the case here. So do not hesitate, grab a SUP and discover (without the need of snorkeling equipment that water is that clear) the fabulous marine life that abounds around the Speedy and the Napoleon Reef. Dahab has many sides and faces, on land, on the water and of course under the water – don't miss any of it, you will come out of it transformed and more connected than ever to the nature surrounding you!
The center also offers all of the amenities and comfort you could wish for: Chill out areas, (hot) shower, fridge, soccer table, hammock, tea, water and coffee, free wifi (probably the best connection in the whole bay), SUP boards (free of charge if you have prebooked), bikes to rent to explore the area, cool action videos to keep you motivated and inspired and a lot more.  To finish, you can of course take professional lessons in windsurfing (private or groups and for all levels) and in kitesurfing on a private basis with our local partner. We all have dreams and objectives and Dahab is a fantastic playground to improve with the experienced instructors of Fanatic the Boarders Center.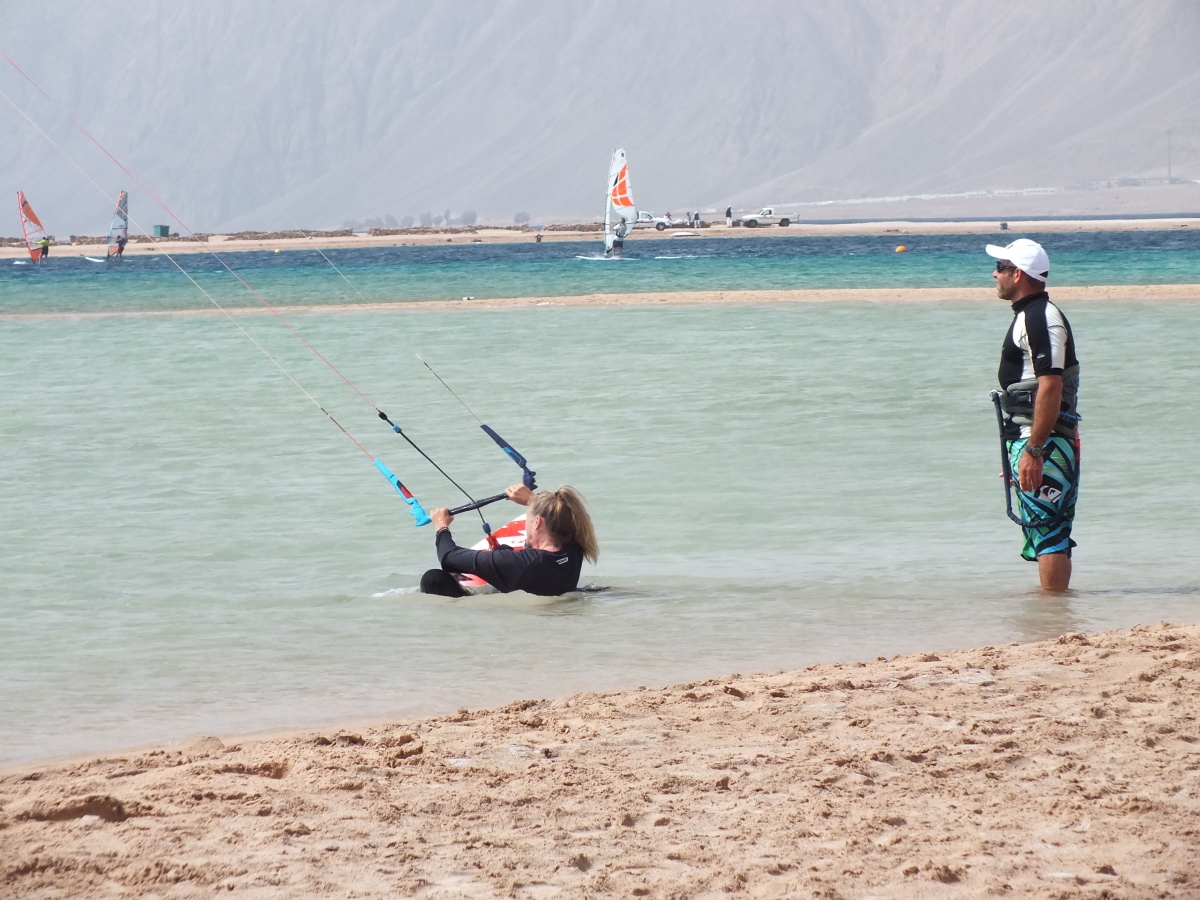 Dahab is a lot more than "just" Dahab and you should definitely discover its other jewels. Among them, the names of Masbat & Assalah have been famous since the late sixties and still retain their original hippie vibe, creativity, internationality and flair. Masbat is located only a couple of kilometers away from Dahab's main hotels (count  € 1,- per person to get there by taxi!). It offers a great blend of true Egyptian culture and will remind you at the same time of the importance of diving and the underwater beauty of this worldwide known region.
Masbat is the place in which to lose yourself, alone or with your partner and children, with easy shopping, delicious food (don't miss the fresh fish catch of the day), original art and great souvenirs, or simply an excuse to discover the bustling seafront of its bay, enjoy a shisha, a fresh fruit juice or a cold beer by the waters edge while letting the world turn without you !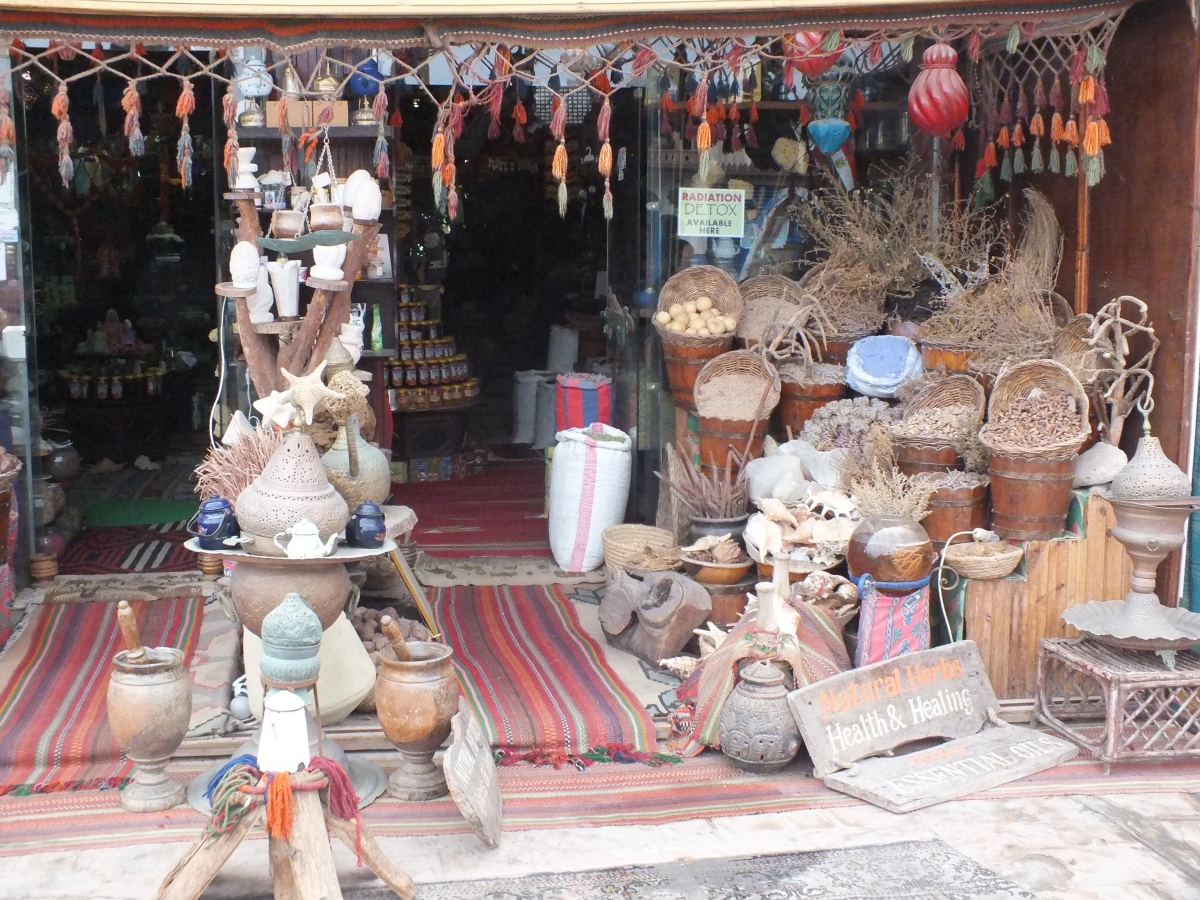 If you have a feel for a little bit of true adventure and a real taste of the Sinai desert, the second place to try is definitely Blue Lagoon .  Once again, the team at the FBC Dahab center will organize everything for you, from equipment to transportation and accommodation. So leave your hotel room and its glorious buffet, take a pick-up, boat, camel or jeep and reach this unique place a few kilometers past the renowned Blue Hole, for a true Bedouin experience and some incredible windsurfing and kitesurfing. What used to be a couple of Bedouin fishermen huts has become bigger and more organized while remaining a very special opportunity to sleep in a hut under the stars, living with the wind, discovering the simplicity and generosity of the Bedouin people who will look after you and feed you (you can't find more organic and healthy food than here) . As for the windsurfing and kiting, it takes place in a postcard-like lagoon that will simply blow your mind away. The place attracts true nature lovers and travellers from all around the world, of all languages, cultures and beliefs, mixing in blissful harmony and happily living life without internet for a while (yes, it IS possible and very addictive). All of this comes at a price, … and it is ridiculously cheap (count € 15,- only per person and per night for accommodation, breakfast and dinner!). As for the conditions, they are just great, with flat water, strong wind, incredible colours, sandy bottom and plenty of space to express yourself or watch the local kids pulling off the sickest latest tricks all day long and for the pleasure of everyone.  At the same time, you will come back with photos that will put your best previous screen saver to shame.
Once you will have tasted this bit of Heaven on Earth, you will be hooked, that is a promise.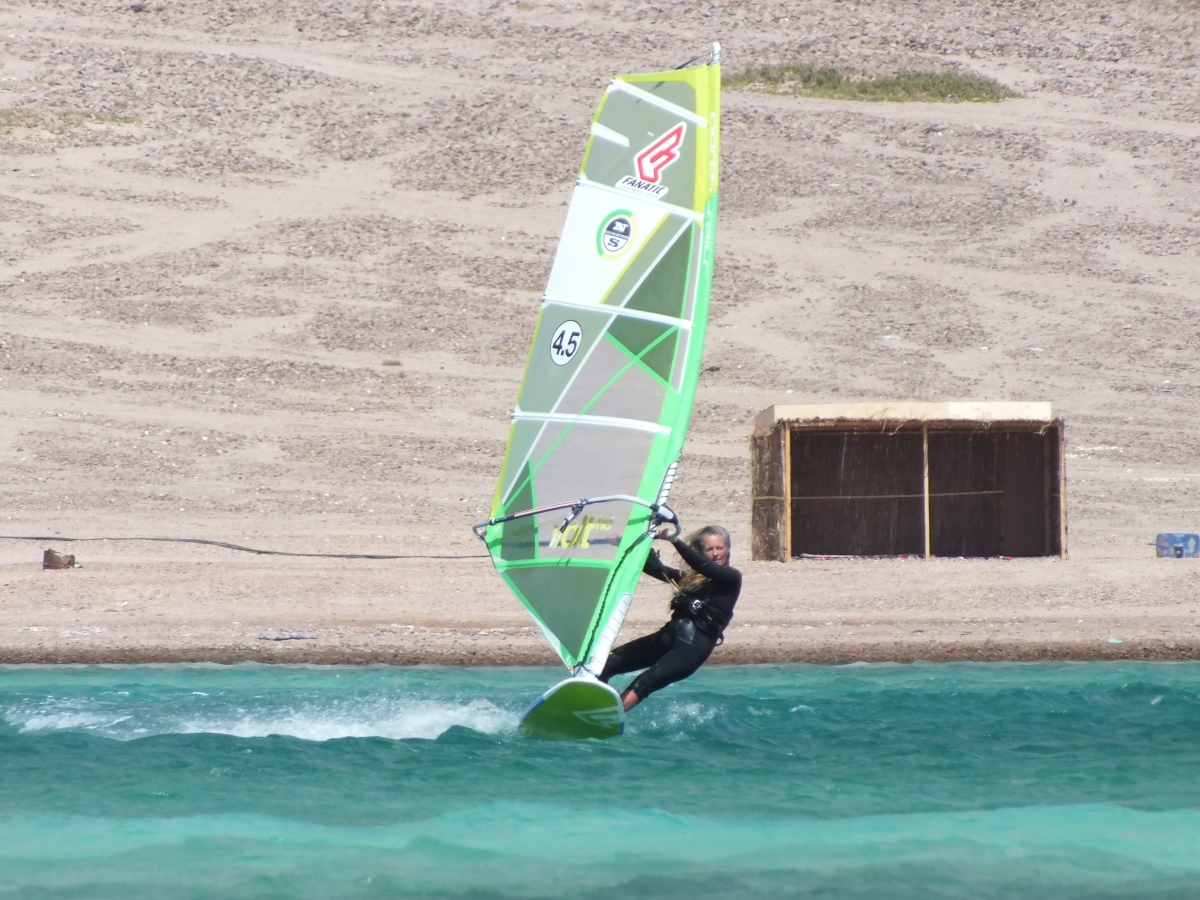 To sum it all up, Dahab and its surroundings truly have something for everyone, you will find a great choice of accommodation in Dahab but also Masbat & Assalah, you will find great food and service, experience the true Egyptian hospitality and flair, spend a great time on land and accumulate a massive amount of fun hours on the water (or under).
Wherever you come from, whatever your level and aspirations are, Dahab will just be a fantastic windy holiday. Besides, it is totally safe and by far the best value for money you can get !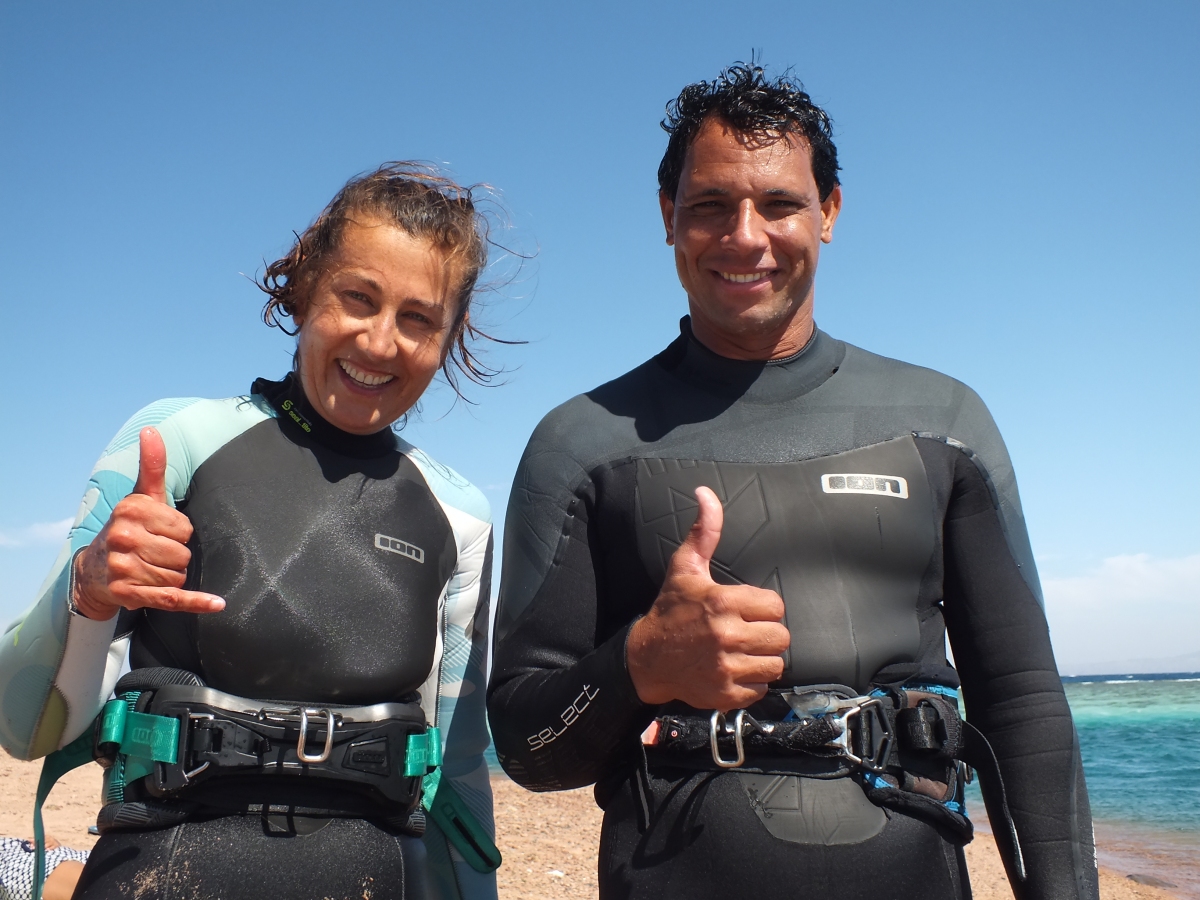 Oh, by the way, did you know that Dahab means Gold in Arabic ?  Well, we certainly know why … and so should you! So don't wait, indulge yourself and get ready to fall in love (again).
See you soon on the water.